Hi,
I've taken the liberty to open up my Panasonic Q Game/DVD player and see how the DVD region free mod was installed.
Below are pictures of my own personal Panasonic Q which I have taken apart to see how the DVD mod was done.
Below are pictures of the Components installed to achieve PAL playback.
Top side of the PCB: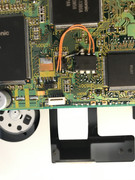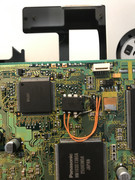 Bottom side of the PCB:
Area's circled in RED are the added components (RAM and Caps)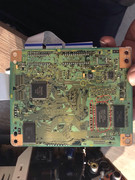 All pictures are from the PCB's that rest on/under the DVD drive.
From what I could tell opening the unit untill just the Gamecube PCB is that the mods happen on those boards that are on the DVD drive assembly.
Region modding the Gamecube Part of the Panasonic Q requires different mods on the Gamecube PCB and has no connection for enabling PAL DVD playback.
Hopefully this will help some people better understand how it works.