Hi.
some days ago, I bought a GC-Loader:
https://www.gc-forever.com/forums/viewt ... =25&t=4836
I just can say that it is working really great and fast.
It is good to copy all my CleanRip - GC-DVD rips to the SD Card and boot the GC-Loader with swiss (boot.iso)
The main problem is:
GC-Loader can only directly boot one (on a PC/notebook/tablet previously determined) GameCube DVD image: Any GameCube DVD image file renamed to
boot.iso
.
If I would like to boot another image file, then you have to use the swiss method (renamed to
boot.iso
) and then you can select another GameCube DVD image file after swiss was started.
But swiss
and
swiss' (sometimes less, sometimes more) time consuming patching process in this case is necessary to start another GameCube game than before.
So GC-Loader is not really more than homebrew booting via SDGecko or SD2SP2 - except the possibility to boot only one predefined GameCube DVD image directly.
Changing
the
predefined GameCube DVD image
which should be booted
requires
:
a PC/notebook/tablet with SD Card Reader
putting the GC Loader SDCard into the Card Reader
renaming any other stored GameCube DVD image to: boot.iso
putting the SDCard back into the GC Loader
Well it seems to be that - regarding the prints on the circuit - the GC Loader has follwing interfaces:
SPI?
+5 (+5V)
GND (Ground)
SCK (Serial Clock)
MISO (Master In -> Slave Out) (SDO; Serial Data Out)
MOSI (Master Out -> Slave In) (SDI; Serial Data In)
CS (Cable Select)
JTAG?
TMS (Test Mode Select)
TDI (Test Data In)
TDO (Test Data Out)
TCK (Test Mode Select)
GND (Ground)
3V3 (3.3V)
Please, could you (
meneerbeer
or someone else who is possible to do that) develop and provide an additional small device - with a (multiline) alpha numeric LCD display and some buttons.
A device hat can use the JTAG or the SPI connection to tell GC Loader which GameCube DVD image should be loaded / used.
Scrolling up/down of detected GameCube DVD image files on the GC Loader's SDCard should be possible with the additional small device.
The connection should be realized with the help of a Flat Flex Film Foil Cable / Flexible Flat Cable, so that the user can decide where to put the GC Loader controller device to.(left, right, behind, below the GameCube) - without keeping any GameCube door lid opened (because of the Flexible Flat Cable)
-->
Like the WODE Jukebox is/was able to do.
Or like other current drive emulators are already able to do so, like the HxC floppy drive emulator: google (image search)
hxc floppy lcd flat cable
The GC loader setting (currently loaded/used GameCube DVD image, is emulated GameCube Door Lid open or closed, GC Loader identification values/strings, ...) should be stored in a .txt / .ini file on GC Loader's SD Card then.
A solution with:
placeholder for the GC Loader controller device and display
would also be great: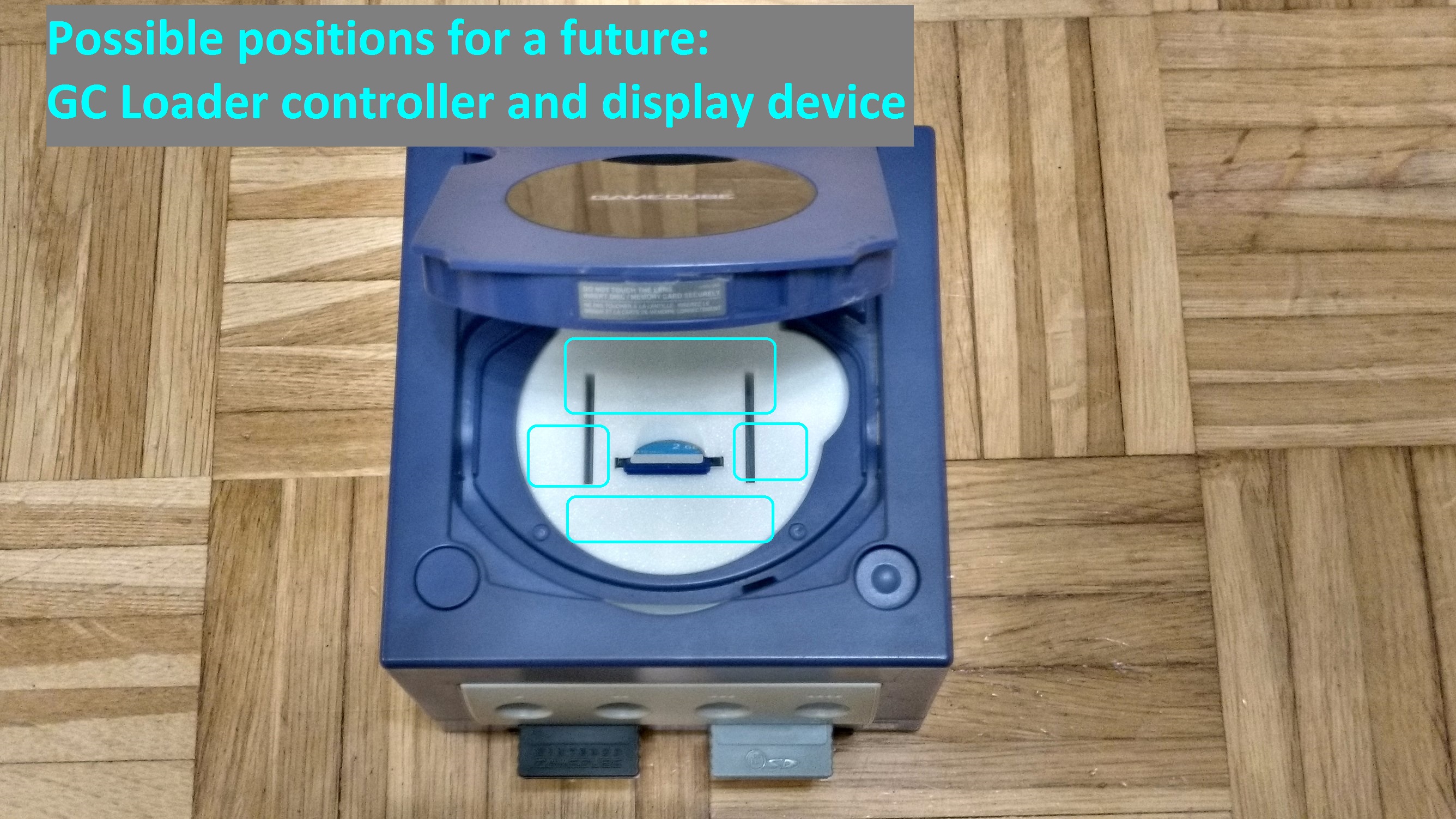 I will definetly buy such a GC Loader controller device extension.
Thank you very much.