I wanted to make up a "little" guide for everyone to help you all get on your way installing my adapters once you've received them. As I've stated previously The Wiikey Fusion is 100% plug and play. Plug it in and go. The WODE will require a few (three to be exact) wires to be soldered to the GC mainboard to power the chip/harddrive.
A little forewarning: Please remember when unpacking/handling these adapters that they are handmade. While they are not going to crumble apart in your hands or anything they should be handled with a bit of care. Please don't pull super hard on the wires or anything like that.
1. Prepping your GamCube:
There are a few steps we need to do prior to doing anything else. Obviously you will want to open up your GameCube and remove the DVD drive. After you've removed the DVD drive, remove the large metal shield (the one that covers/protects the GC mainboard) that is attached to the bottom of the DVD drive. What we want to do is cover this large metal plate in something that is non-conductive (masking tape/electrical tape/paper) whatever floats your boat as long as its non conductive. Its important that we reinstall this shielding/plate thingy because it helps direct the fans airflow over the fins of the heat sink and will also provide us a nice place to sit our modchip on (that will be non-conductive!). Here is an example: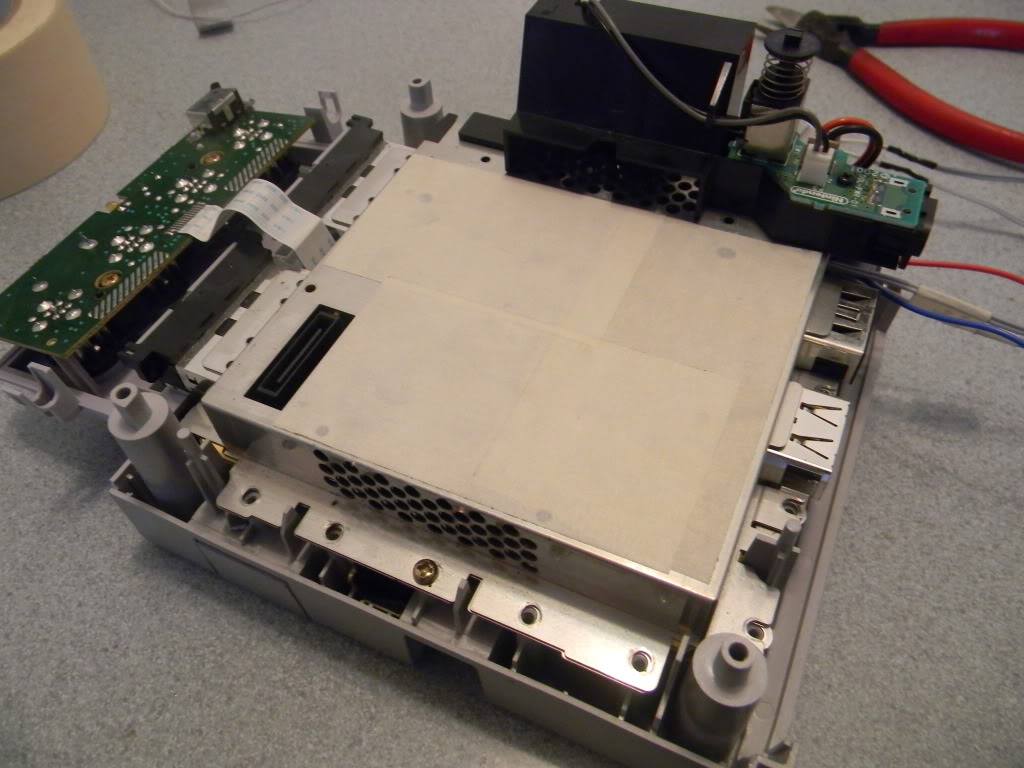 The next thing on our agenda is to prepare our lid switch. To do this we'll need a pair of these: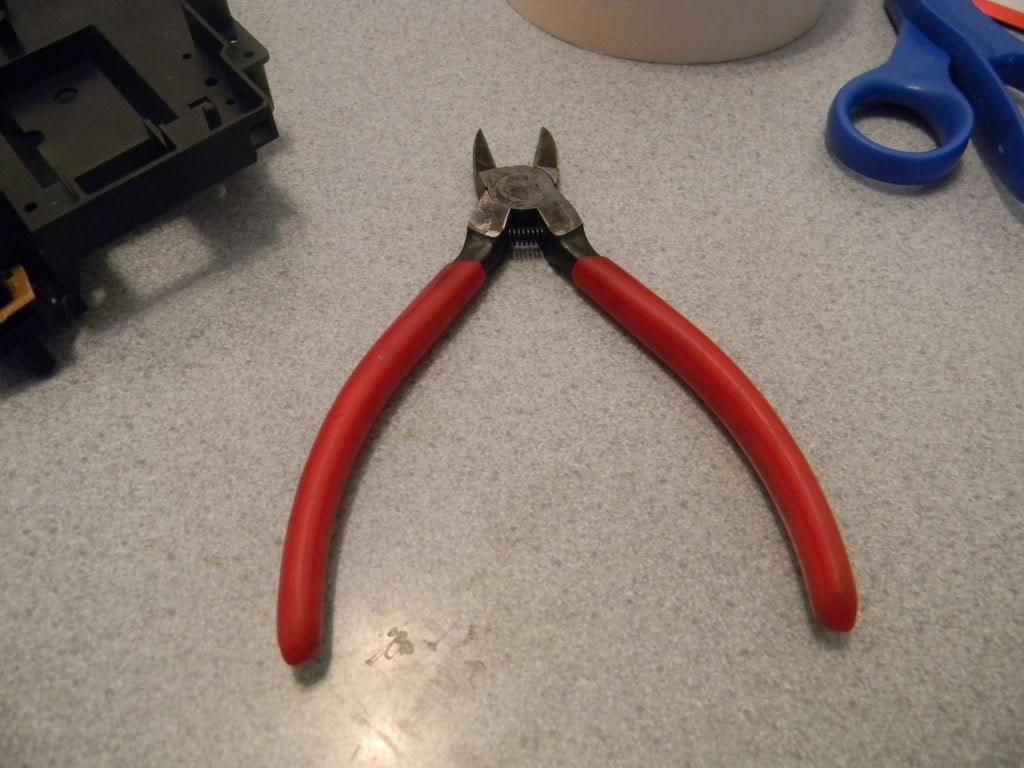 Take your cutters/dikes/snippers/whatever you like to call them and cut the lid switch off of the GC DVD drive like so:
Set that aside with your non-conductive metal sheilding for safe keeping for now.
The next thing we need to do is find a nice home for our "eject" switch. You can put this little bugger wherever you fancy, as I've left the wires going to it long enough to accommodate placement of it pretty much anywhere. Wherever you decide to put it though, you'll need to drill a 5/16"/
edit by liquitt: 8mm
hole there. Please make sure it will be somewhere unobtrusive to the workings of the rest of the GameCube. That'd be a real biatch to drill a hole in your GC only to have the placement somewhere it wont allow the GC to close or wont allow the power switch, etc to work properly. Here is an example of a good unobtrusive place for the switch:
(please excuse the scum covering the top of the GC in this picture. The lots I buy off e-bay don't always look the prettiest)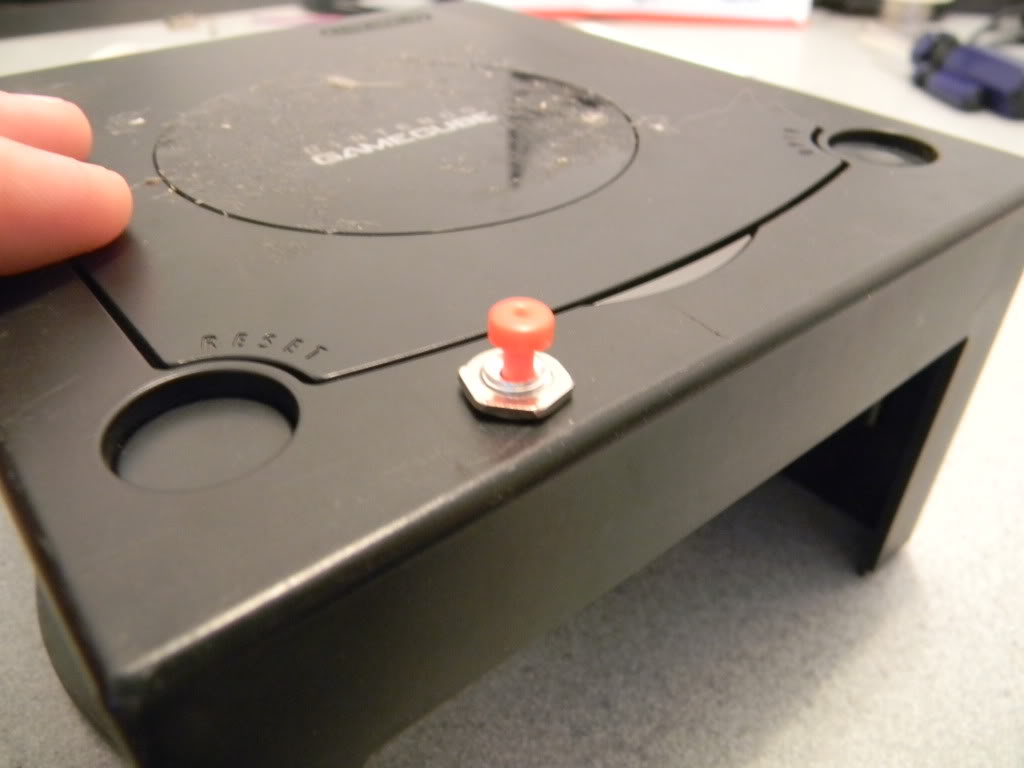 Thats it for the prep work. On to it then!
2. Installing the extra WODE stuff:
Obviously if you're a Wiikey Fusion user, skip to step 3!
If you're a WODE junkie, hopefully you have your naked cube in front of you and your soldering iron is nice and steamy. Its time to solder our 3 wires to the power input of the GC mainboard.
This should go without saying, but PLEASE make sure you follow this part of the guide to a T. I'm not responsible for anything you misconnect that kills your WODE/GC. If something here is not clear to you, I'm only a PM away!

This is the connector in question (
Rev A/B gamecubes only!!!!
If you have a rev C cube please PM me for diagrams):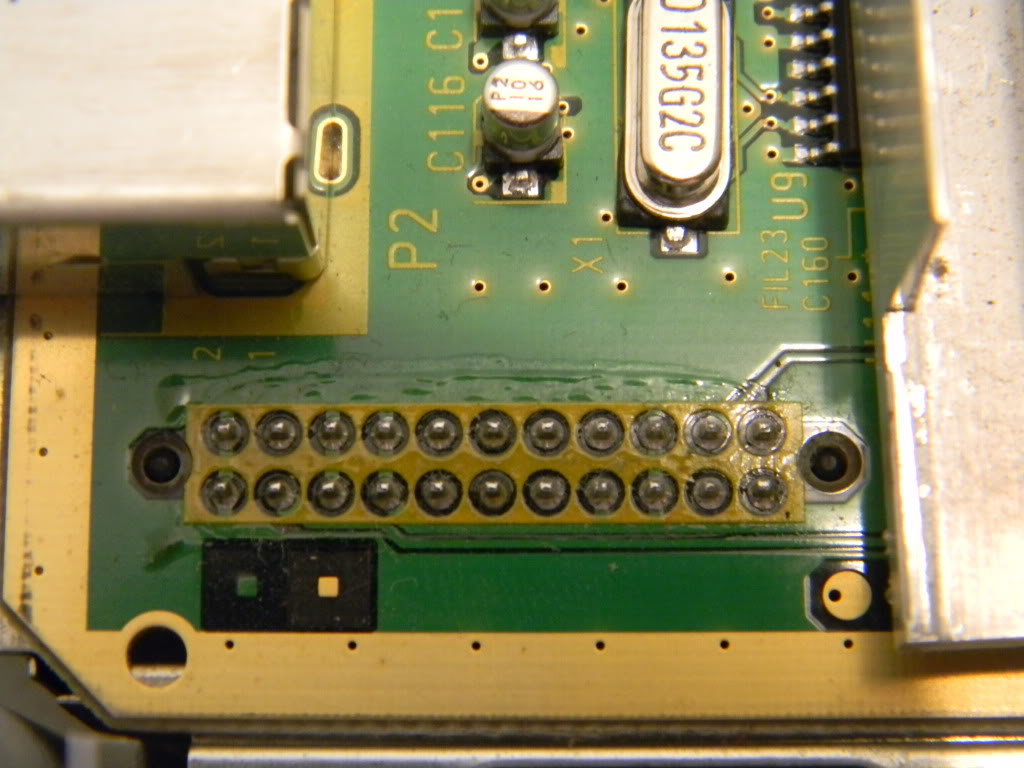 As you can see, I've removed the screws from the GC heatsink and slid it over a bit to give myself some room... Got that done? Alrighty, lets prep our connector! Put some fat solder blobs on the top and bottom pins on either end of the connector so that the connections bridge themselves, yep you heard me right. Don't worry I promise everything will be OK. Second pin in from the left on the bottom of my picture there is 3.3v tin that one a bit too... Once you're done it should look something like this:
Now, we get out our "extra" connectors from our adapter pack. The red wire will supply our WODE slave board with 5v and the blue wire will supply our WODE slave board with ground (sorry I didn't have any black wire). Strip the ends of those wires I've supplied to you, now take the blue wire and the "other" connectors ground wire (i've labeled it) and twist them together. After you've done that "tin" (put a bit of solder onto) the ends of all of those wires. It'll help make connecting everything easier on you. Then solder the wires in the proper spots as I've shown here:
Once again, Pictured leftmost is ground, next pin over is 3.3v and rightmost is the 5v line. As you can see in the last picture the heat sink of the GC sits pretty close to the 5v line once the heat sink is screwed back into place. Please make sure your 5v wire is not touching the heat sink at all.
Now, we'll want to put our cover/shielding back over the GC motherboard, but first we'll have to make a little opening in the back to let our power wires stick through like so: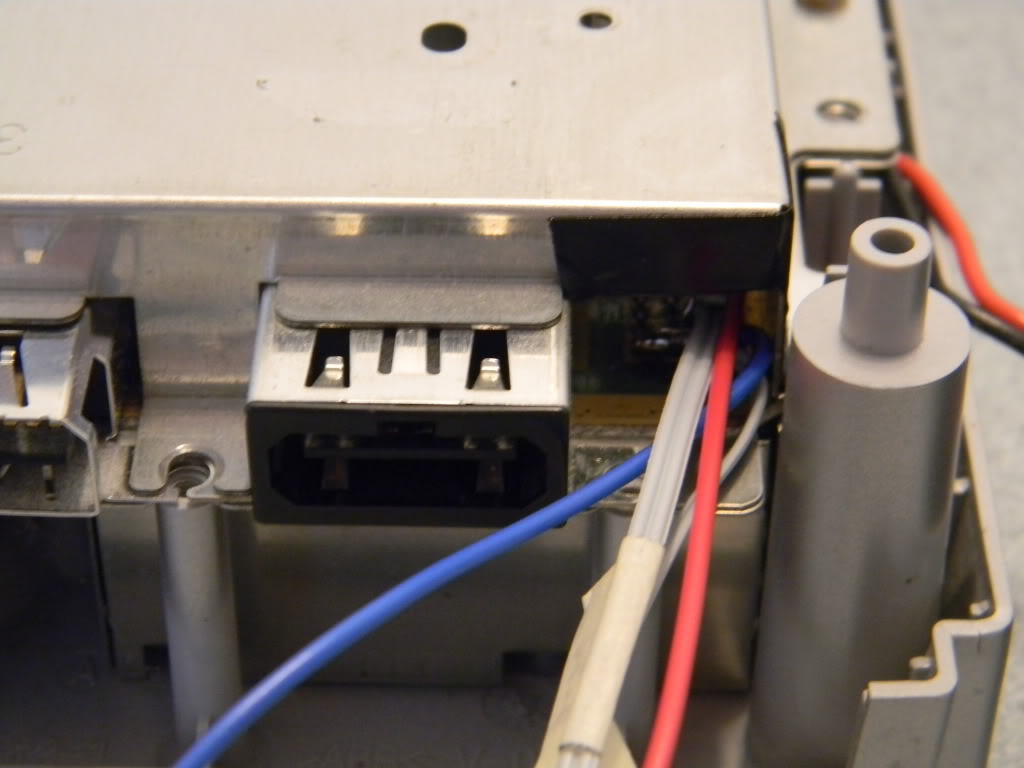 To do this just flex the metal in that area back and forth until it breaks off. Cover the rough edge with some electrical tape like I've done. Now screw the sheilding/cover back in place over top of the motherboard.
The next thing we need to do is finish the prep of our red and blue wires. The best way I've found to to this without destroying the WODE slaveboard in any way is to just modify the plug that leads to the USB adapters that normally supply the WODE with 5v when hooked to a Wii like so: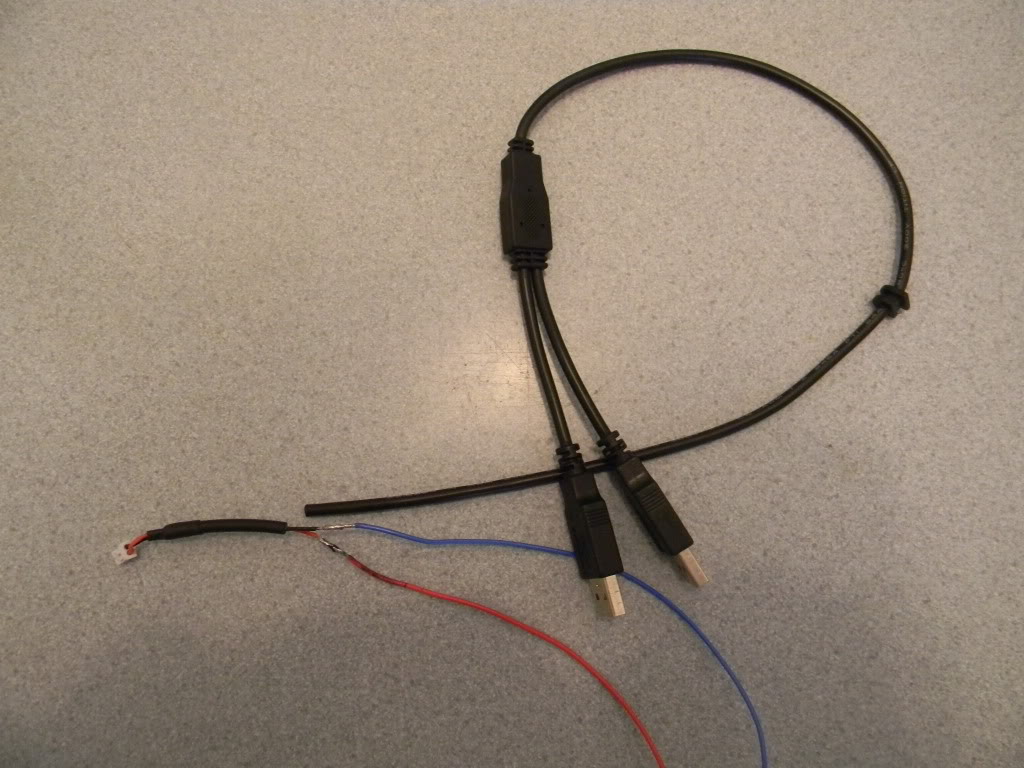 As you can see, I've just cut the end of the USB cable off and stripped the ends to make the connection to our red and blue wires. Once again red coming from both sides is 5v and black to blue connected wires in the picture are ground. Make the connections such as I have above and then cover the soldered spots with electrical tape or heat shrink tube if you have any.
Thats it for the extra wode stuff. Onward!
3. Putting everything back together
Alrighty! So if you're a Wiikey user and skipped the last step you'll need to screw your protective shielding/cover back over the GameCube motherboard. At this point everyone's GameCube should look like this (with the exception that you should have all the screws back in place going around the shielding):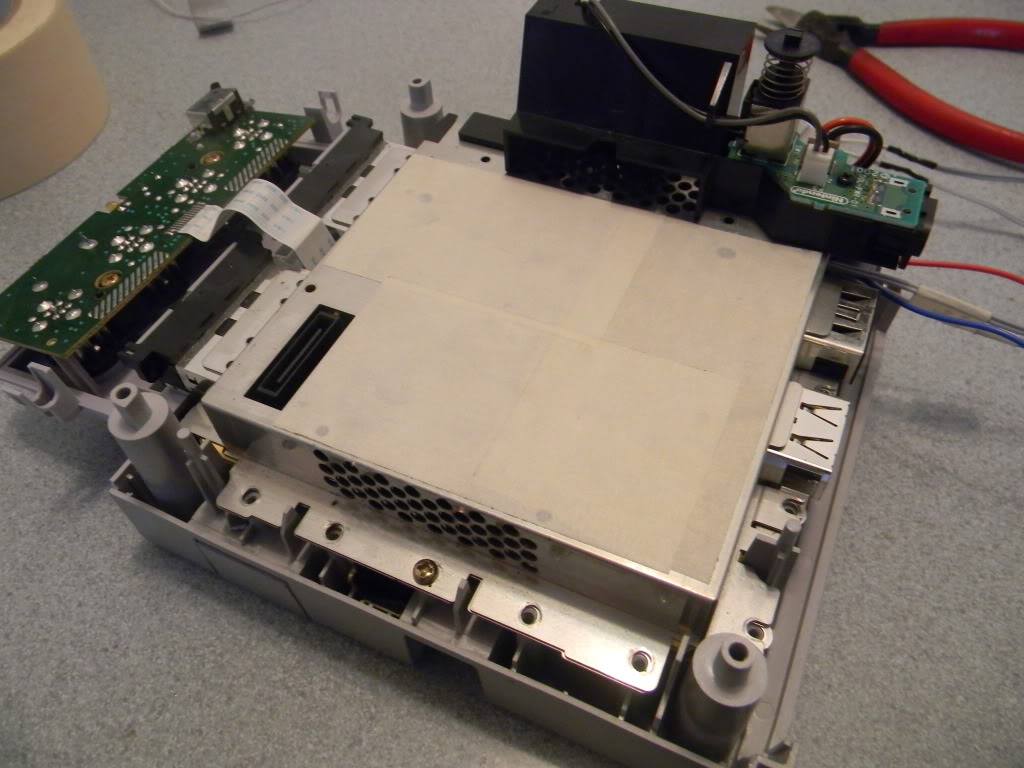 Once that's all done we need to mount our lidswitch some way or another like so: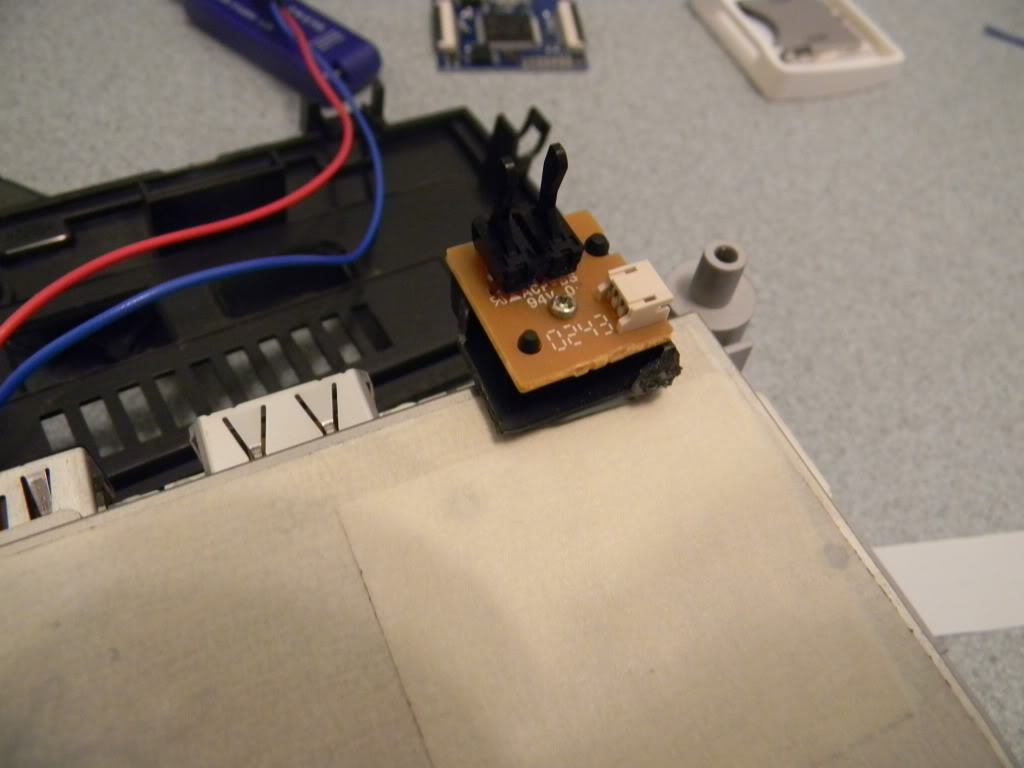 There is a little post at the back of the GC that the switch sits on top of that will help hold it there. Double sided tape/adhesive or some kind of glue to hold the switch securely in place is a really good idea.
Once you've got your lidswitch secured its time to plug in my handy little adapter into the DVD drive connector slot like so: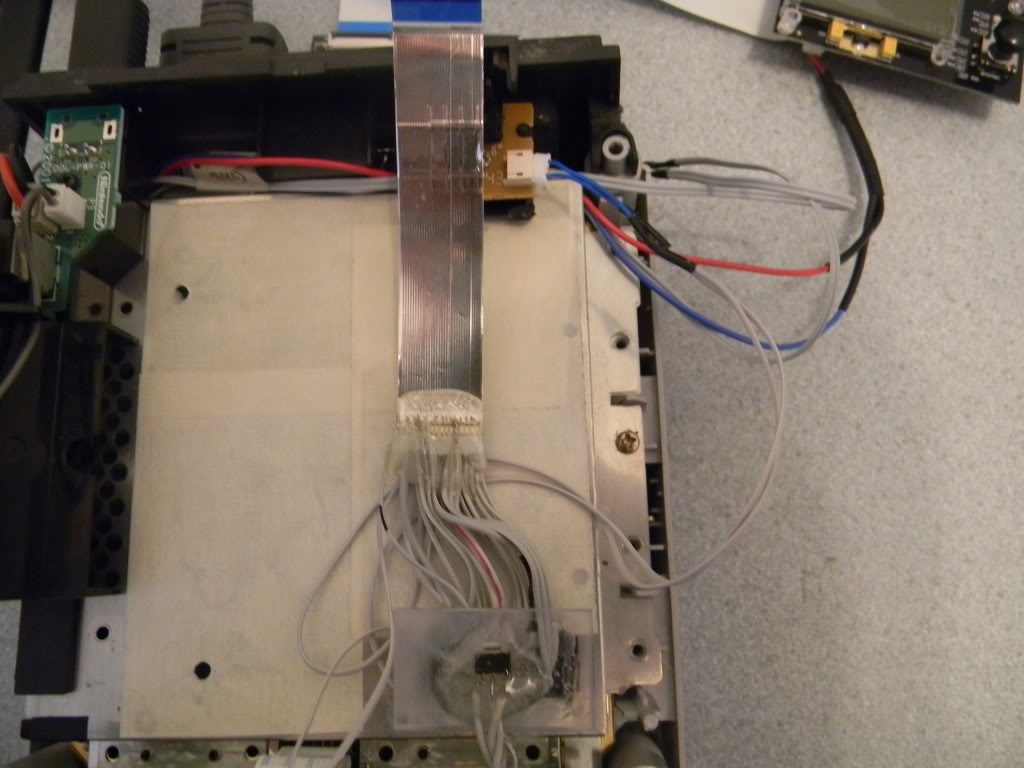 Its pretty obvious that this is the correct orientation for the adapter.
I should tell you though that there is absolutely nothing that will stop you from plugging in the adapter backwards! Needless to say if for whatever silly reason you did plug it in the wrong way it would be very bad for your modchip/GameCube!
Please make sure yours looks like the picture above.
After you've done that plug in the lidswitch wires coming from the adapter into the actual lidswitch.
Pretty much all thats left at this point is to connect whichever modchip it is that you're going to be using. Please make sure you do this correctly. The blue endtab of the FFC
coming from the adapter should be facing upwards when connected to your Wiikey Fusion/WODE when looking at it top down. Like so: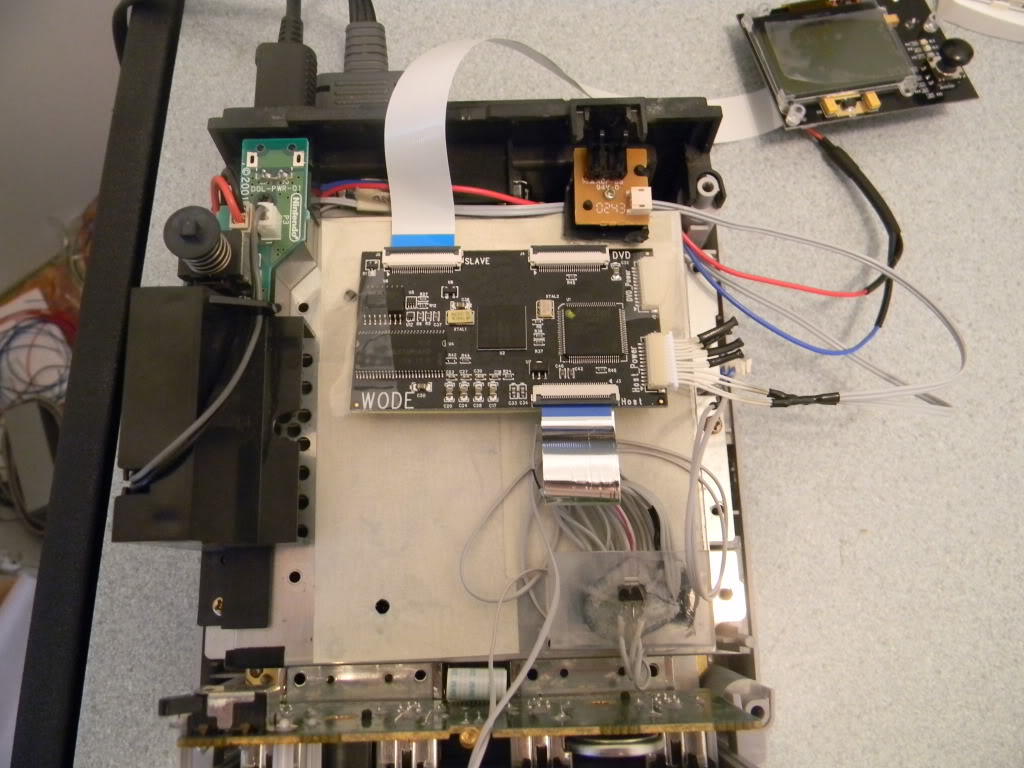 Your GameCube should look something like the above picture at this point. Please make sure to secure your modchip down some way with either tape or glue. Make sure that any extra loose wires sticking out are packed away inside the cube and secured so that they wont move around much.
You can then take the "eject" switch and screw it into wherever you've made the hole for it on the top of your GC case and put the lid (carfully) back on your cube.
Thats it! Hope everyone who got one of these from me enjoys their "new" Disc Drive'less GameCubes!
If anything here in this guide is unclear to you. Or I've not explained anything in enough detail, please feel free to post with your questions and I'll get this guide updated to the best of my ability!
Cheers All!
Here's a couple video's of these babys in action:
WODE:
http://www.youtube.com/watch?v=y4MBX0mb6l8
Wiikey Fusion:
http://www.youtube.com/watch?v=_SgI6gB-rbU