Here's the pics for the connections and traces that need cutting on the front and back of the DVD board.
Cut traces as marked below to break continuity from the drive board to the connector.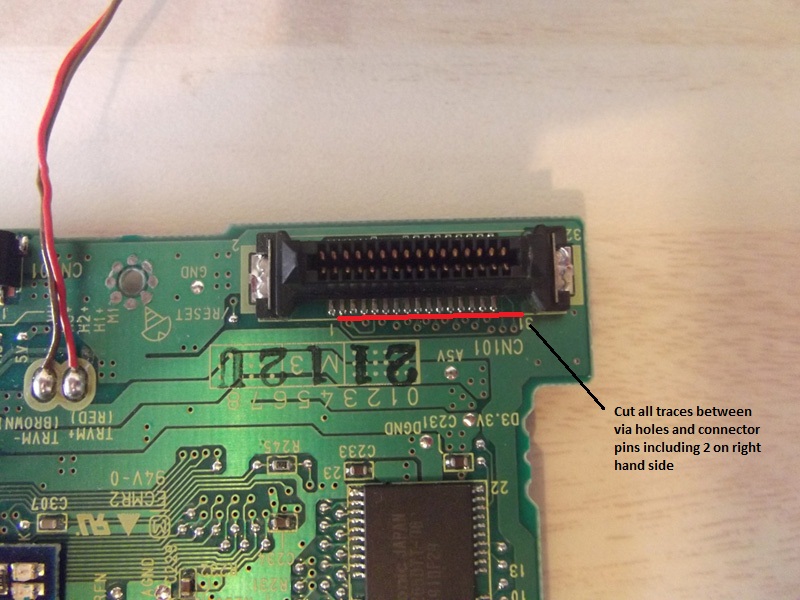 You also need to cut the 2 traces on the back of the board marked below as you cannot get to them from the front of the drive board.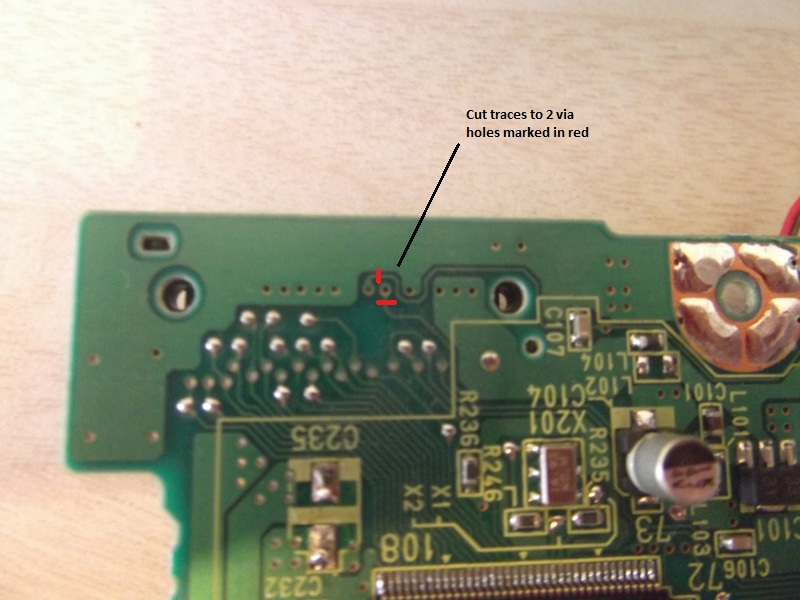 Use the pins from the connector on the front of the drive board numbered below to connect the WODE Wii connector to the GC motherboard via FFC cable. I recomend putting some tape over the via holes so that there are no short circuits once the wires are connected.
Use the points numbered below on the back of the drive board to connect the WODE DVD connector to the GC drive via FFC cable. I have marked pin 25 twice to give an alternate point in case you don't want to solder to the via hole.
Forgot to mention that you can bunch all ground connections from FFC cables and solder them to any GND point on each side of the board. If there isn't a GND point where you want to solder them then just make one by scraping some of the green layer from a ground trace on each side of the board. Make sure it is a ground trace with a multimeter though or you might end up frying something

You can also take the 5v and GND supply for the WODE slave board from the GC drive board if you like. There are a few points on the front of the drive board marked as 5v and as I mentioned above it is easy to find or make your own GND point.
If you want to run backups or out of region originals with the correct video mode on this setup then you will need to install a XenoGC. You may also need to bypass the 150 ohm resistor in series with the pot and then lower the pot to roughly 120 ohms. Needing the pot to be this low has not been confirmed by anybody else yet so I would advise to try with a normal pot setting first then lower accordingly if necesarry.
It has also not been determined yet wether or not long term use with the pot set this low on this setup will affect the life span of the laser so only do this if you are willing to find out the hard way