It appears that you can use the
Wii U Gamecube Controller Adapter on the PC for Dolphin
. I love the Gamecube myself and will never throw it away, but to be perfectly honest some games just run flawlessly and look very beautiful on Dolphin with 4x Native that I can't resist not having both available.
It does not look good hanging down from my desktop and it rattles back and forth when we move our controllers which is really annoying and may scratch up my case which I'd like to avoid. Here's the idea I got. My first idea was to make a gamecube controller adapter modded into an expansion bay so that I could plug the controllers directly into my computer. However I haven't been able to find a good base to use as the expansion bay so I may just build on the front cover and make it a bit more basic since it's not visible from the side window anyways in my case.
Current (can do right now) plan:
- Open gamecube adapter
- Drill holes in front cover of expansion bay to fit gamecube adapter
- Extend USB cord and take it out the back of my desktop and into the mobo USB ports
- Make sweet sweet love to my newfound love for a bigger better computer with "native" gamecube support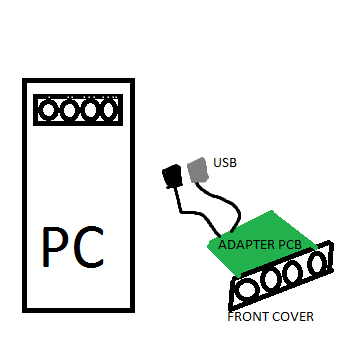 I have some other idea's I'd like to try out, but I am not sure what/how to do everything although I am not done researching, but I'll update the thread along with my thoughts and plans. And of course pictures of the beauty.
As mentioned, I would prefer to make a standalone 5.25" Expansion Bay insert that "just works" so anyone can borrow and use it without being put off by its barebone insides and lack of isolation. If anyone have any good plastic expansion bay drawers (flat front) they know that aren't of horrible quality I would love to hear it and see what I can do with it. The ones I've found just haven't cut it for me..
Scrapped idea, thanks Streetwalker for the idea about using internal front panel usb mobo pins and sparking an idea to use both my usb panel and the controller adapter!
I would also very much like to see if I can use Molex and Sata instead of USB as for starters it takes two usb slots, and not everyone has holes in the back of the computer where they can take cables out which I really want to avoid alltogether.. I am not sure if this is possible yet, nor how I would go about doing this. It doesn't need to be easy, but I can't really program so if any (more than basic) programming would be involved I doubt I'd pull it off without paying some freelancer. Suggestions/tips are welcome, but I'll continue researching this area as it's the biggest struggle of my wanted design.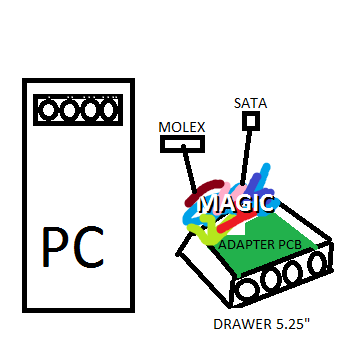 Nevermind, thanks tueidj for the quick reply!
As a side question, I've read that some optical drives can read gamecube and wii discs, but there have been issues running games from disc on dolphin. Anyone know some stuff in this field? I thought it'd be cool to put in an original GC disc and play it on my computer with original controllers plugged right into the front with everything looking like it's made by Nintendo themselves (or better)! I'd probably buy one anyways as I don't have any optical drives (when did I ever need one?) and it's nice being able to rip games with ease on my computer instead of using the wii (which I no longer have a remote for)...
Edit 1: Added some really hot ms paint work which took ages to draw, should be a quick indicator of what I am planning to make. I'll add that I may or may give it a fancy design with leds on controller ports, but it depends how pretty I can get it (I've seen some pretty ones here before, but I don't remember where nor do I remember ever seeing where the leds are placed for best results. No IRL pictures yet as I don't work where I live, I'm not home for a few days.
Edit 2: Spoilered answered question, thanks!
Edit 3: molex/sata scrapped, not feasible. Internal mobo front panel usb pins sounds much better!
Edit 4: Received a triwing screwdriver in the mail today so I went a head and started as soon as possible working on this mini project.
Mind you there is some borderline project gore here. If you don't like uneven cuts or hotglue I recommend you shut down your browser and go out for some fresh air to cool off. Another fair warning, images are huge. Okay last warning, my computer's front is SUPER dusty. I'll fix it... tomorrow. . .
Cuts have been marked. Zero measurements and took 10 seconds flat.
Cuts performed. This is before I cleaned them up a bit so don't throw up yet. You can probably tell this is my first time using a dremel.
Super dusty computer and
IGCA
mounted.
Hotglue gore, it
fits and sits
so dont worry :)
CHILLING! Also have 3 matching smash controllers.
Next up possibly fix my bad cuts and add orange LEDs to match the case. I've also ordered some parts as currently the USB is going straight through my case and into the back of my mobo. Come on postal services, hurry! :D