CleanRip
Author: emu_kidid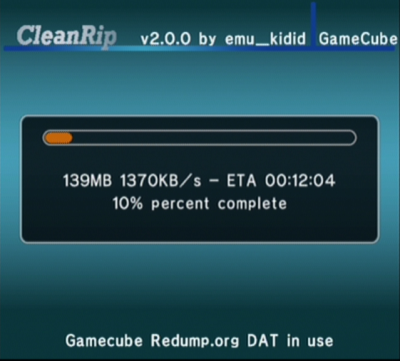 (taken from http://code.google.com/p/cleanrip/)

Create 1:1 backups of your GC/Wii discs for archival purposes without any requirements for custom IOS (cIOS).

Whatsnew in 2.0.0:

* GameCube version integrated into one codebase

* GX GUI

* Fix disc dumping on Wii U (Wii discs only of course)

* Fix ETA calculation on non GC discs

* Fix fatUnmount

* Stop larger than 4GB chunks on FAT FS

* Fix potential issue when read error occurs

Features:

* FAT32 / NTFS file system support

* USB 2.0 support

* Front SD Support

* Gamecube / Wii / Wii Dual layer disc dumping

* BCA ripping to disk

* File Splitting (1,2,3GB (or Maximum file size - only on NTFS))

* MD5/SHA-1/CRC32 sums saved to disk

* Redump.org in-program verification for known rips (hosted on gc-forever.com)

Example of dump information provided as of 2.0.0:

Code: Select all

--File Generated by CleanRip v2.0.0--

Filename: GMSP01
Internal Name: Super Mario Sunshine
MD5: 72C4860D8555D5E790628E348ABC244D
SHA-1: 26798080DE5E5C0F154915324C5C7DD6AA36056A
CRC32: 4C1D3641
Version: 1.00
Verified: Yes
Seconds: 545


FAQ:

Q. How do I use the redump.org verification to see if my rips are good?

A. There are two options to get this setup with CleanRip.

1. CleanRip can automatically download the redump.org DAT files if it is connected to the internet.

It will place two files gc.dat and wii.dat on the root of the device you're about to dump to.

OR

2. Go to

http://www.redump.org

, click on downloads and then download the

"Nintendo GameCube datfile" and the "Nintendo Wii datfile". Extract the .dat from the

zip archive and place them on the root of the device you will be dumping to.

They must be named gc.dat (Gamecube) and wii.dat (Wii), otherwise they will not be found.

Alternatively the GC/Wii can try to download them from local versions on gc-forever but these

may get outdated.

Q. CleanRip tells me that my dump is not verified, is this a bad rip?

A. It might be. To be sure, go to redump.org and have a look at the game you're trying to rip.

If it doesn't exist on redump.org, then feel free to sign up to the forum and submit

your rip checksum. If it does exist, then make sure you've turned off any Gamecube/Wii

region patching from your modchip and also that the disc is as clean as can be. It might

help to try ripping it on another wii if possible.

Q. What is "New Device per chunk" I see when entering my Wii settings?

This is useful to set to "No" when you're ripping a large game (>4GB) to a large enough

FAT32 formatted device. This way, it'll automatically split your file based on the chunk

size and will not prompt you to insert the next storage device for the next piece.
Web site:
http://code.google.com/p/cleanrip/
Cleanrip current version - Download
http://code.google.com/p/cleanrip/downloads/list