Freeloader
Jump to navigation
Jump to search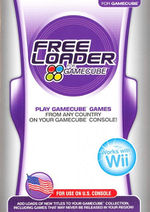 Freeloader is a bootdisc based solution developed by Datel to circumvent regional lockout on the Gamecube. It allows unmodified Gamecubes to play original out-of-region (import) titles. Datel sold different versions of Freeloader compatible for use with NTSC (USA, JPN) and PAL (EUR) Gamecubes.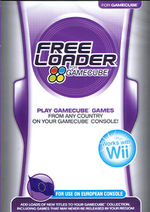 Features
Launch and play imported GameCube games from any region.
No need to modify your console - keeps your warranty intact.
Add loads of new titles to your GameCube collection, including games never released in your region.
Play ANY region of games ANY GameCube.
Fast and easy to use.
Compatible with the Panasonic Q.
Not 100% compatible with the Japanese version of F-Zero GX and Paper Mario 2.

Important: When playing a Japanese game, the memory card will be re-formatted to Japanese settings, overwriting any existing US or European settings and any game saves stored on the card. Recommend keeping a separate card for use with Japanese games only.